Staging, Decorating and Remodeling


Top dollar is attainable in move-in ready properties. We pride ourselves on helping customers prepare their properties to gain maximum value in the sales process. In some cases staging will be sufficient. We will bring in the right furnishings and accessories to create a warm and welcoming home that your buyers will fall in love with! And more important be able to imagine themselves living there. In addition, the staging allows us to incorporate the most attractive property images to the marketing of your property, helping to attract the most serious buyers.
Some properties may need a bit more TLC. For these properties our Island Styland branch can move into remodeling gear. We have the expertise to address the bigger issues that may be holding your home sale back. We can remodel portions of your home to make it look new and modern. Whether it is replacing the kitchen or a bathroom, adding new and modern finishes, appliances or cabinets can sometimes be enough to earn a return on investment that tops 500%! Let us help you get top dollar for your property! Find out more about this service by clicking or tapping HERE or on the Islandstyland logo at the top of this article.
All of Our Personalized Concierge Services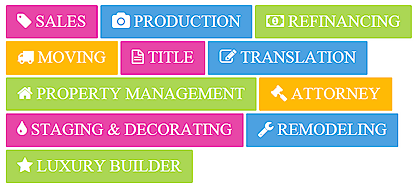 B
ecause at Island Iris Luxury Real Estate, we believe that business isn't about a single transaction. We want to help our customers through a lifetime of real estate experiences and support them in ways that go above and beyond buying or selling a home.
Our VIP services include a wide range of resources that encompass every aspect of our client's needs – everything from sales, vacation rentals, production film locations – to mortgage/refinancing, relocation services, title, property management, translation services and an in-house real estate attorney. Our goal is to be your single point of contact for accessing all the real estate resources you need, serving all of south Florida.