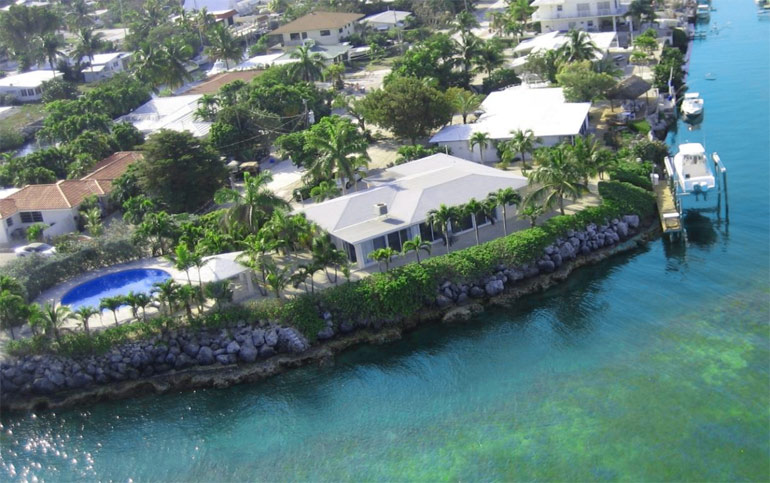 What to Consider When Buying a Waterfront Home in the Keys
Looking for a waterfront home in the Florida Key is a common theme among real estate buyers.  However, whether this is your first waterfront home or not, there are considerations that must be taken into account with the purchase.  One of the biggest distinguishing factors among those looking for a waterfront home is whether or not you own a boat.  Boat owners have different decisions to make in terms of purchasing real estate that those who do not – particularly regarding controlling depth and distance from cuts between the bay and ocean sides of the Keys.
Not all waterfront properties are created equal. Some waterfront properties in the Keys will allow for bigger boats than others. The size of boat possible for a given property is determined by the controlling depth.  This is the minimum water depth that a boat can travel through to open water. The larger the boat, the higher the controlling depth; the higher the controlling depth, often the more expensive the home. If you own a boat, or are looking to own a boat, it is important that you take into account the controlling depth allowed by properties that you are looking to buy.
Another consideration is for your waterfront home is how far away it is from the channels and cuts that connect the bay to the ocean. One of the best features that sets the Keys apart from other waterfront destinations is the ability to enjoy the best of the ocean and the uniqueness of the Florida Straits so easily. There are only certain places throughout the Keys where boaters can cross from one side to the other. If your Keys home is located too far from one of the channels, it could take a very long time to move from the ocean to the bay, or vice versa. Moving to the Keys can be the best decision you've ever made, as long as you take your time to find your perfect Florida Keys home and work with the right professional.